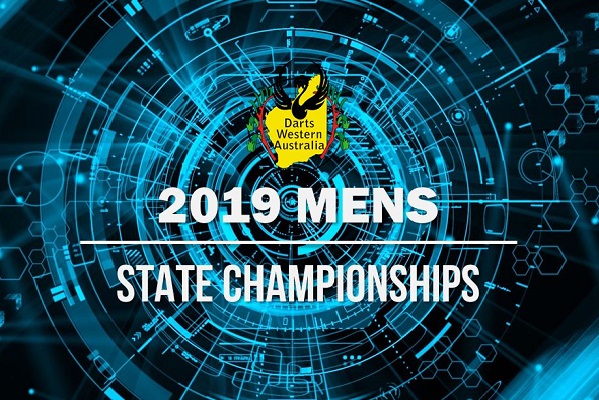 Darts WA hosted an incredible 44 teams across 7 divisions making the 2019 championships a top weekend for our sport and for all involved.
This year Darts Western Australia proudly inducted Denis Parr into the Hall of Fame.
Denis commenced his darting career in 1978 at just 16 years old and this year celebrates his 41st season.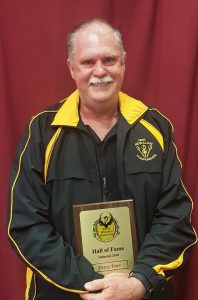 During this time, Denis has represented Western Australia with great distinction, not only as a player but also as a Team Captain.
Having overcome the dreaded "Dartitis" more than once during his career, Denis continues to play at the highest level and today still ranks amongst WA's finest.
He is justly considered by the entire darting community of WA to be not only one of the States great players but also a true gentleman of the game. Once again, on behalf of the entire Western Australian darting community, we congratulate Denis on this wonderful achievement.
Onto the winners.
Division 1
Winners –  Rockingham 1. 8-39
Loz Ryder, Dan Kelly , Michael Andre, Paul Ramsden, Brenton Lloyd, Colin Leggett
Runner Up –  Collie 1. 8-27
Gary Keep, Paul Beddington, Lee Chapman, Ijah Coyle, C J Naysmith, Peter Rowe
Jarred Northover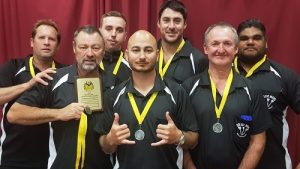 Division 2
Winners –  Mandurah 1. 10-34
Blake Hatchett, Jamie Miles, Ben Namnik, Ray Moore, Ted Moore, Jamie Gillispie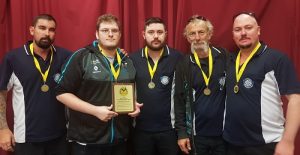 Runner up  – Bunbury 1. 8.26
Rueben Hayden, Keith Charchalis, Rodney McNamara, Denis Mumme, Nigel Hartley
Alan Kennedy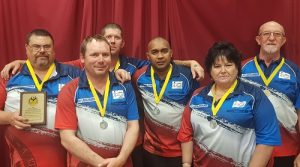 Division 3
Winners –  Morawa 1. 10-34
Clifton Beauchamp, Roddrick Hughes, Gavin Walgar, Bryce Simpson, Clifton Dongara Snr
Geofrey Little Jnr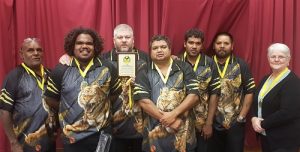 Runner Up  – Port Kennedy 2. 8-33
Grant Dobson, Chris Indich, Clint Cooper, Peter Howell, Sean Morrison, Steve Vosper
Division 4
Winners –  Geraldton 1. 8-34
Alex Jones, Mitch Clark, Angus Websdale, Luke Emery, Matt Hodder, Chris Farrell
Runner Up –  Fremantle 2. 8-32
Ossie Ford, Anton Soc, Gary Hunter, Elroy Basnayake, Chris Ooi, Craig Johnson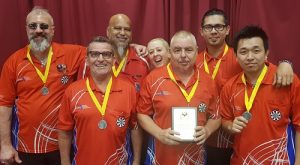 Division 5
Winners –  Swans 2. 8-38
John Coelho, Terry Carter, Hans Lostra, Josh Johnstone, Ken Saul, Myles Taylor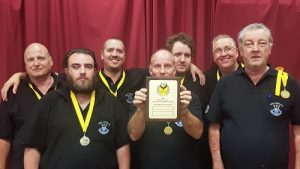 Runners Up –  Geraldton 2. 8-31
Trevor Jones, Josh Jones, Matt Hamlett, Jordan Hutchcraft, Nathan Ace, Josh Ace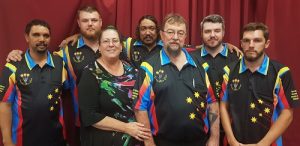 Division 6
Winners  – West Coast 3. 14-47
Steve Hunter, Mark Brazier, John Donnelly, Andrew Bull, Brad Hillary, Terry Van Eck
Coz D'Uva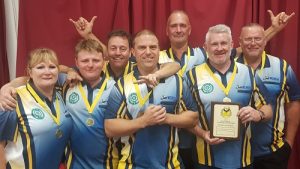 Runners Up – Rockingham 4. 10-43
Shane Kenewell, Matt Clune, Josh Jovanovic, Harley Murphy, Dwayne Jovanovic
Joshua Schmidt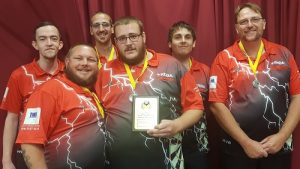 Division 7
Winners –  Port Kennedy 4. 10-39
Kevin Kosovich, Dylan Park, Jack Bunworth, Gary Tyrrell, Bill Gilla, Jared Rogers
Dylan Sutherland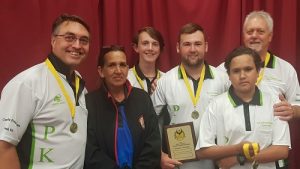 Runners Up  – West Coast 4. 8-30
Lachlan Hunter, Tony Story, Blake Robins, Shanon Cooper, Craig Penman
Hayden Southerland, Blake Southerland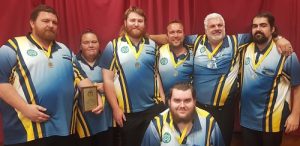 180's – Total of 189
Highest Peg –  Troy Goscombe 161
Pegs 130+
Paul Ramsden 141 Rockingham
John Berecz 160 Quinns Rock
Colin Leggett 160 Rockingham
Josh Jovanovic 152 Rockingham
P.J.Lennard 150 West Coast
Irwin Boddington 141 Meekatharra
Kim Lewis 134 Fremantle
Tony Kelly 130 Port Kennedy
Geoffery Mongo 135 Meekatharra
Top Eight Averages
Adam Rowe 85.33
Loz Ryder 84.77
David Platt 83.81
Dan Kelly 82.99
Lindsay Haji Ali 81.90
Kim Lewis 81.17
Lee Chapman 80.39
Blake Hatchett 79.08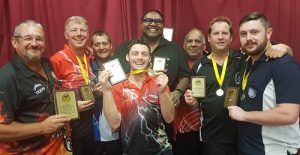 DWA Squad to trial for State Selection.
Adam Rowe, Blake Hatchett, Graham Hunt, Paul Ramsden, Rodderick Hughes
Barry Gardner, Alan Aird, David Platt, Michael Andre, Clifton Beauchamp
Alec McAvoy, Tyler Sutherland, Gerry Starr, Irwin Boddington, Mick Zdun
Lee Chapman, Brenton Lloyd, Troy Goscombe, Steve Robertson, Wayne Egan
Kevin Thomas, Trent Cooper, Dylan Dunster, Matt Brenan