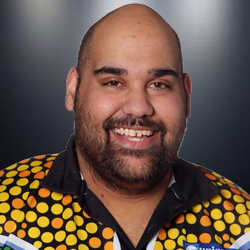 Unlike many or probably most of you guys, I don't know Kyle Anderson. We've exchanged a few Facebook messages and I had a quick chat to him back stage at last years Perth Masters but that's about it. Having said that, you don't need to know the guy to understand he is an amazing talent, has had his fair share of challenges on getting to where he has, absolutely loves his family, his country and his heritage. Has never forgotten where it all started and is a great ambassador for our sport and our Country.
I thought it might be nice to ask Kyle a few questions (via FB messenger) and document his answers. He's obviously a humble guy too so I reckon the book is a way off yet but we appreciate his time and hope you guys enjoy the following.
Foreword by Graham Hunt:
Kyle the original – I remember Kyle as a junior playing at Kenwick coaching classes because he was more interested in impressing the girls than playing darts. Luckily it didn't take long before he realized that he had some potential and started competing for real. Kyle quickly moved up to the week night games where he had to have Mum or Dad there because he was too young to be in the hotel and it didn't take long before his real potential started to show.
I remember when I played against him and I had to be on my game and you could see the desire and passion in his eyes. I think his Mum Dayle and Dad Norm were a great influence on his darting career. Norm was a great player too but I believe that Norm never reached his full potential because like most parents he was willing to give up his dreams for his kids both Beau and Kyle.
So to Kyle don't practice until you get it right practice until you can't get it wrong and remember winners don't wait for chances they take them. Good luck Kyle the Original Anderson.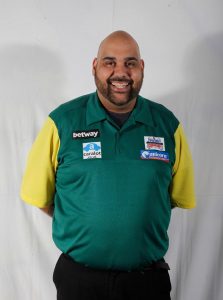 So Kyle – How did you get into darts and at what age? As long as I can remember I have been involved in darts. Mum and Dad played and then Beau so I just followed the walk
What age did you start competing and where? Started playing competition from 11 years old C Grade Fremantle District Darts Assoc for the Leopold Hotel. Unfortunately at that time I wasn't allowed in some venues
At what stage did you make your first rep side and what was the side? Junior team WA 1999, Fairfield NSW Australian Junior Championships
Where did you go from there ie which teams and what comps? Made Fremantle 2nd Division Metro Squad year after, WA juniors for 6 years straight, then to South Suburban. This was back in the days when juniors found it hard to play in associations.
How did you make the transition into PDC? Just tried my luck in the Oceanic Masters which I was fortunate enough to win and the rest is history.
What made you so bloody good? Practice dedication and the right attitude. My family gave me wonderful support and still do
Speaking about support, who helped you along the way and what did they do for you? My biggest influences would be Dad and Beau. My uncles used to come around and want to play darts so found myself on the boards a lot. The older guys such as Graham Hunt, Ossie Ford, Kim Lewis and Mick Hammond provided some knowledge on the game and how to act in pressure situations
What advice could you give to an up and comer wanting to emulate your feats? Just be dedicated and don't rush. Take the right avenues, learn the board.
Cheers Kyle and from every member of Darts WA, good luck with the season ahead.