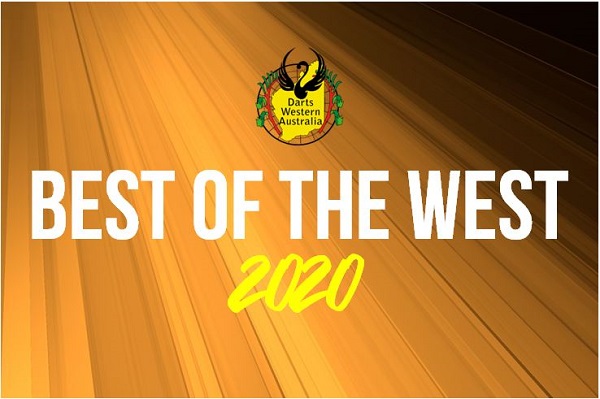 The 2020 inaugural Best of the West weekend has come and gone.
There were some new ideas implemented such as the Survey Monkey survey where we respectfully asked players to scan the code and complete the survey. It's things like this that will help Darts WA determine what players really want from darts both in the present and in the future.
Everyone adhered to the Covid-19 Protocol when entering the Vasto both days so thank you for that people, let's continue to keep our great WA State as safe and COVID free as best we can.
Like all new ventures, there's always the odd hiccup and we were no exception to that rule. This said though, I think everyone involved in the event from us at DWA and all involved from the DOSH side of things, can all be credited for a job well done.
A big thank you to Jim from Just darts who was on hand to change broken points, sell the latest darts products and accessories, etc and for his donation of $100 pick of the shop, again donating all proceedings to our juniors. Thanks, mate, glad to have you around.
Staging this event was no easy feat but it goes to prove one thing, events involving all genders and all grades can happen in one venue and at the same time.
As this event grows, I will make it my mission to dramatically increase the prize pools and make the event one of our premier events in the calendar.
I'd like to take this opportunity to thank Dave and Trish Butcher from Eclipse Driving School for their extremely generous $500 cash donation as a raffle prize which was done over the two days. The ticket sale proceeds went 100% towards our DWA Junior's program and I'm delighted to say over $800 was raised so thanks Eclipse, you really are awesome guys.
As for the hard work done (un-noticeably at times) by our committee, there was a lot of head scratching, frayed tempers, emotions running high, just to get the event as perfect as we can for you all, is a clear sign of honest commitment that goes into these sorts of events, which I for one hope all DWA players appreciate.
As for the winners of their respective divisions, well done to you all. The game was played with terrific intensity, the respect for opponents was unparalleled, true gamesmanship was evident for all to see. That's the kind of ambient atmosphere we want at our events both now and in the future.
So rounding up, the event was both a great success and a learning curve for myself as it was my first tournament as President. I hope I did not let anyone down and I'd like to reiterate, if what we did pleased you then please tell others and if we didn't, please tell us.
From all at DWA, Merry Christmas & Happy New Year. Until next time, stay safe.
David Platt.
President DWA.
RESULTS
Men's A Grade
Winners – Dosh Colts   6-39
Team – Barry Gardner, David Platt, Tom Wiley, Vic Hedland, James Chapman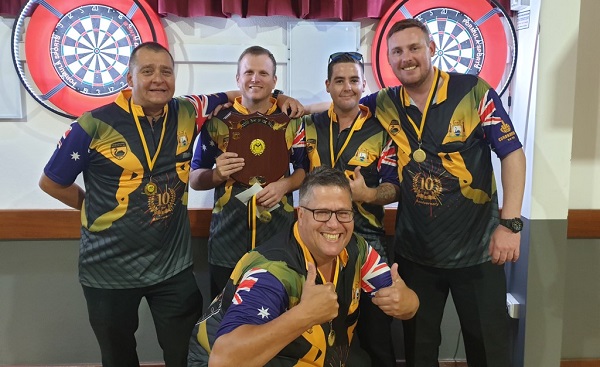 Second – Begbiezs BeezBuss   5-32
Team – Graham Begbie, Adam Cameron, Morne Hansen, Logan Warnest, Steve Cullen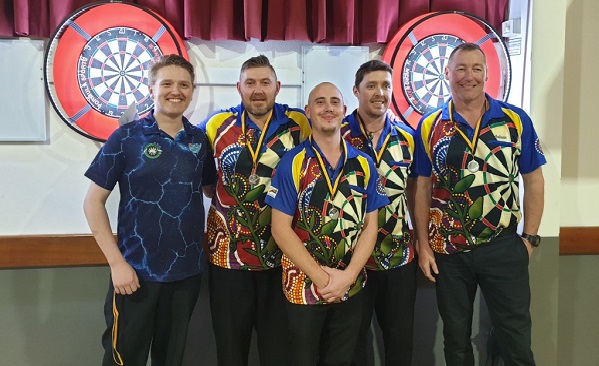 Third – G. U. B.   5-31
Team – Kayden Marsh, Tyson Hoefel, Tom Barker, Dylan Dunster, Bailey Marsh
Fourth – JADDA Jaguars   5-30
Team – Rick Lever, Dan Kelly, Rueben Hayden, Michael Andre, Brad Everett,
Highest Peg – James Chapman  156, Trent Cooper  125
180's – Total  35   Trent Cooper  4, David Platt  4, Adam Cameron  4
Ladies A Grade
Winners – Bossa Nova Babs   5-29
Team – Jane Gambie, Evelyn Cockie, Robyn Fairlie, Dot Mcleod, Deb Norton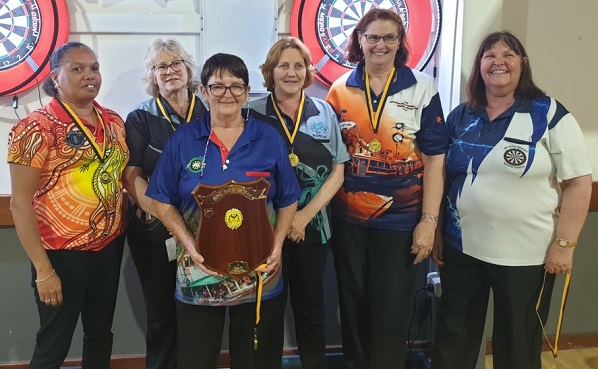 Second – Nats Attack   4-20
Team – Natalie Carter, Ursula Bennell, Stephanie Moriarty, Bonita Patten, Penny Stevens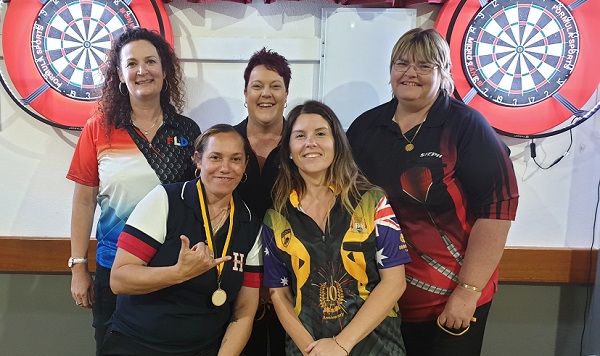 Highest Peg – Marianne Bell   167  Wot Eve U Want, Dot McLeod  128
180's – Evelyn Cockie, Deb Norton, Naomi Booth
Men's B Grade
Winners – Dragons   9-50
Team – Jordan Garland, Gavin Horner, Bill Gilla, Bob Binsair, Dylan King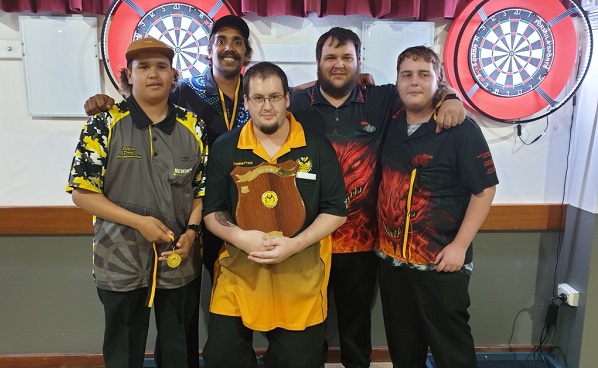 Second – Shanigans   7-39
Team – Alec McAvoy, Gary Stevens, Hedley McAvoy, Dave Marinovich, Travis Wharton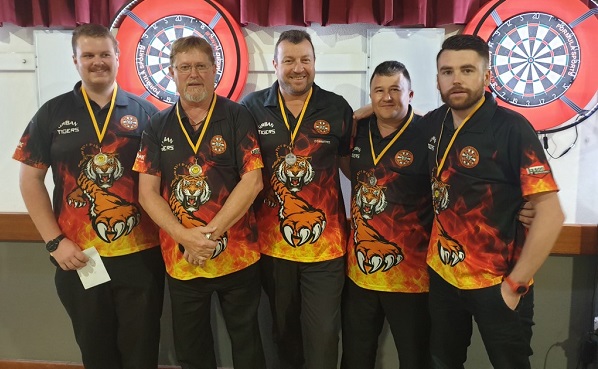 Equal Third
Wasted Potential – 6-39
Team – John Coelho, Carl Caton, Kevin Chappell, Clint Austen Terry Carter
Pretenders – 6- 9
Team – Dean Bower, Rob Currie, John Dackins, Dave Burke, Mike Cooke
Highest Peg –  Lachlan Hunter  170 Blue Baggers, Tyson Bekkers  150  IT Allstars
171 x 2 Cosi Duva, Josh Johnstone
180's – Total 56   Gary Stevens x 6, Bill Gilla x 5
Ladies B Grade
Winner – Double Trouble  4-26
Team – Kristina Gallacher, Angela Fairman, Jo Haynes, Rhonda Garland, Roz Reimers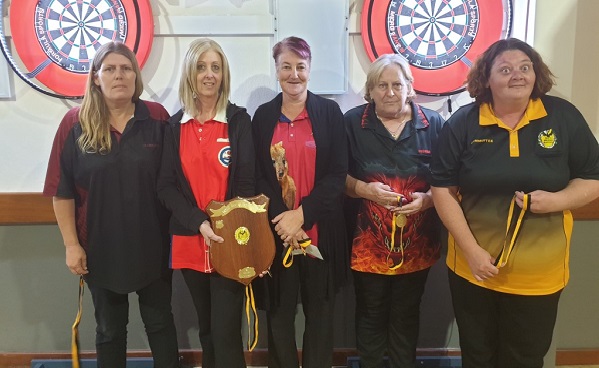 Second – Valley Ladies  4-21
Team – Ellen Circosta, Chairmain Lang, Rebecca Gleeson, Jacqui Gleeson, Claire Jones, Suzette Carman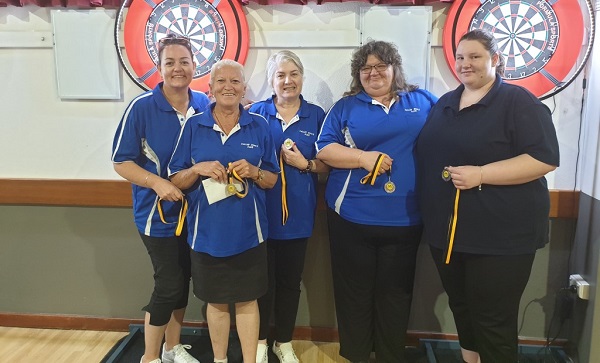 Third – Crystal  3-22
Team – Ellen Woods, Audrey Woods, Jessica Hendricks, Sandra Gillespie, Gleny's Deeble
Highest Score   171  Jacqui Gleeson  Valley Ladies
Highest Pegs     94  Roz Reimers,  86  Bev McCaughan