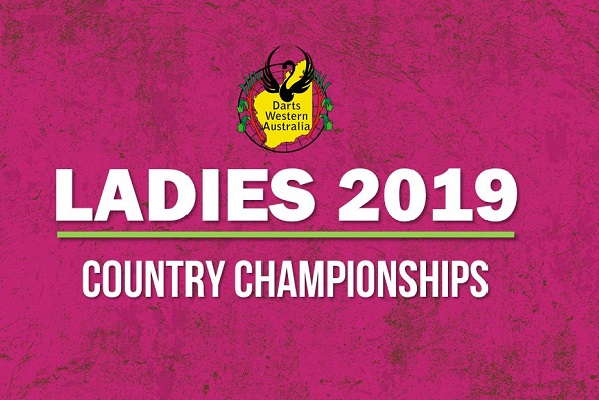 A total of 16 teams competed at this year's Country Championships all associations with the exception of one. Long days with 8 teams in a division, with a few prompts to move along. Well done to all that participated.
Division 1.
Winners   Peel Ladies 1.    14-56
Team: Natalie Carter, Jucinta Dann, Ursula Bennell, Carol Robinson, Angela Clark and Jane Gambie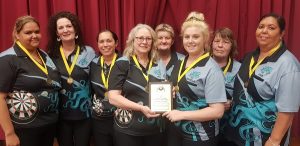 Runner Up  Geraldton Ladies  10-48
Team:  Leanne Taylor, Barb Jose, Leanne Randall, Marion Anthony, Sharon Wolgar and Bethany Dawson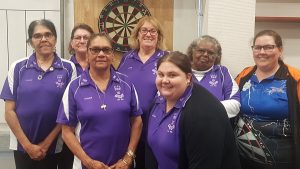 Division 2.
Winners   Mandurah Ladies 2.  12-53
Team:  Vicki Cook, Erica Carpenter, Trudy Ciraulo, Karen King, Gay Boyd, Dawn Barclay
 Runner up  Great Northern 2.   10-47
Team: Leigh Ingis, Dianne Bellotti, Nicole Cooper, Debra Hartley, Jackie Hill, Hayley Yappo, and Lou Shay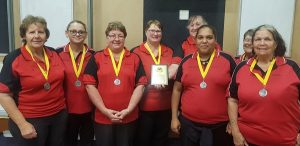 180's 
Laurel Bainbridge  x 2
Leanne Randall
Angela Clark
Leigh Ingis
Chloe Head
Chloe Nitchske
 Highest Pegs
Teresa Winn  160  Busselton,
Jucinta Dann  160  Peel 1. 
High Pegs     120+  
Rosele Rodney      129   Bunbury
Lisa Franscis          112   New Avon Ladies
Marianne Bell       101    Great Northern
Ursula Bennell      100    Peel 1.
Marion Anthony   100   Geraldton 1.
Top Six Averages
Natalie Carter          62.63   Peel  Ladies
Jucinta Dann            58.70   Peel  Ladies
Kayleigh Pickett       54.36   New Avon Ladies
Marianne Bell          54.35   Great Northern
Leanne Taylor          52.90   Geraldton
Carol Robinson        51.48   Peel Ladies
Final Results
| | | | |
| --- | --- | --- | --- |
| | Wins Points | Game Points | Position |
| Peel Ladies 1. | 14 | 56 | 1st |
| New Avon Ladies 1. | 6 | 38 | 5th |
| Geraldton Ladies 1. | 10 | 48 | 2nd |
| Peel Ladies 2. | 10 | 44 | 3rd |
| Great Northern 1. | 8 | 40 | 4th |
| Mandurah 1 | 6 | 29 | 6th |
| Busselton 1. | 2 | 31 | 7th |
| Bunbury Ladies 1. | 0 | 22 | 8th |
| | Wins Points | Game Points | Position |
| Mandurah 2 | 12 | 53 | 1st |
| Dongara Ladies | 10 | 42 | 3rd |
| Geraldton Ladies 1. | 4 | 30 | 7th |
| Great Northern 2. | 10 | 47 | 2nd |
| Leschenault | 6 | 39 | 5th |
| Busselton 2. | 8 | 41 | 4th |
| New Avon Ladies 2. | 4 | 31 | 6th |
| Bunbury  Ladies 2. | 2 | 25 | 8th |