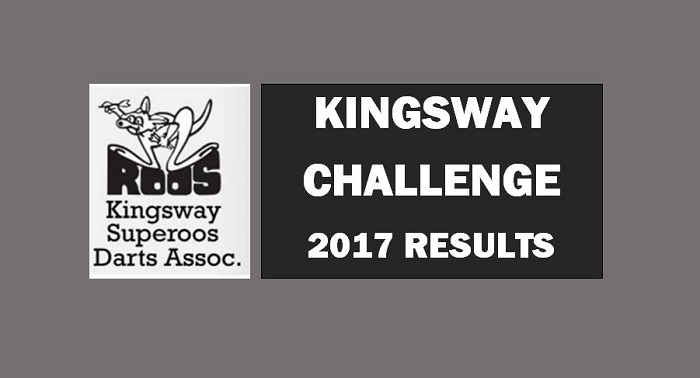 Despite a real hot and steamy day, 63 men and women turned out to take part in this year's Kingsway Superoos Challenge.
The event that carries valuable 'Ranking' points was played in less than ideal conditions because of the heat but in true WA 'Dartie' spirit, everybody (Well just about everybody) just got on with the business of playing darts.
A very big thank you to Vince Taylor and the Kingsway Superoos Association for hosting the event and we wish them all the very best for their coming season.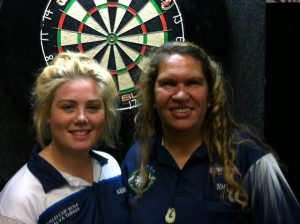 Ladies Open (13 Starters)
Semi Final 1. – Michelle Rodney (70.54) d Kim Kelly (53.00) 4 – 1
Semi Final 2. – Angela Clarke (71.57) d Ursulla Bennell (46.57) 4 – 0
Final – Michelle Rodney (65.56) d Angela Clarke (59.30) 5 – 3
Young 'Gun' Angela got away to a solid start, taking out the first two legs with pegs of 20 & 32. Michelle then came back winning the next two legs in 6 and 7 shot games to make it two all. Angela pegged 40 to take the 5th leg with Michelle taking the sixth.…..'Three all'. Michelle then put the pedal to the metal, taking out the next two legs and the match in a couple of tidy 6 and 7 shot games.
Photo – Winner Michelle Rodney (right) and Runner up Angela Clark (left)
Ladies 'B' Grade (3 Starters) Combined with the 'Open' event.
Highest placed – Di Hopkins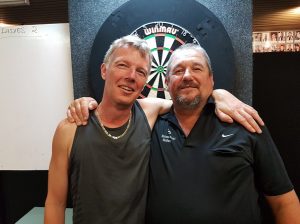 Mens Open (35 Starters)
Semi Final 1. – Loz Ryder (82.32) d Maurice Heta – Tohu (78.82) 5 – 4
Semi Final 2. – Adam Rowe (113.86) d Brad Austen (75.33) 5 – 0
Final – Adam Rowe (77.51) d Loz Ryder (73.36) 6 – 3
With Rowie coming off a 113.86 average in his semi-final and Loz just starting to hit his straps, the final looked as though it would be an absolute beauty between these two 'Big Game' players.
Loz kicked off with a tidy 6 shotter to take out the first leg before Rowie bounced back with a 32 peg to take the second. Loz pegged 32 to take the third leg then Rowie 12 for the fourth. It wasn't quite the darts we have come to expect from these two power players and the fatigue factor day had obviously set in. At two all, Adam stepped up to the plate to take out the next three legs in 6, 5 and 6 shot games to make it 5 – 2 his way. Loz was not having a lot of luck at this point but managed to peg 40 to take out the eighth leg before Rowie cleaned up the ninth leg in a 6 shotter to take the game. Photo Winner Adam Rowe (right) and Runner up Loz Ryder (left) note- Loz did not play in a singlet!
Mens 'B' Grade (12 Starters)
Final – Brad Standing (Swans) (pictured left)  d Joshua Hills (Northam) 4 – 2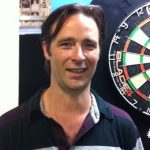 Equal 3rd – Leon Davis (Northam) & Ricky Pickett (Northam)
Highest 'Peg' on the day – Clint Austen 170
Total 180's – 38
Click Here to download more stats
Thanks to everyone that came along and supported the event and special thanks again to the Kingsway Superoos for their continued support and hospitality.