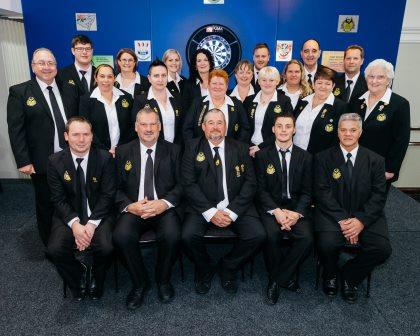 The W.A. State ladies and men's teams travelled to a cold Bendigo in Victoria for the Australian Championships where they made their presence felt in all events
The first event was the Peter Mac fours , which is considered a real tough competition. Our Mens team were very unlucky to miss out on the finals with only a pegout or two in the final results. The ladies very nearly had both teams through to the final but in the end our green team (Kim Kelly, Natalie Carter,Ashley Charchalis and Lee-anne Watkins) proved too strong for all other teams and took out the title.
The Pacific Masters Grand Prix Singles was held on the second day and turned into a highly successful day for the W.A. players with Lee-Anne Watkins winning the final against her team mate Ashley Charchalis and Adam Rowe winning the Mens title.
The Australian doubles event was hard fought but we didn't manage a finalist in this.
The W.A. players showed their true team spirit in the teams Championships.
The Ladies were a force to be reckoned with and showed absolutely no mercy whatsoever when they won every game and the shortest margin was 8-3. A truly amazing effort.
The Men's team competed extremely well and were always within a dart of winning matches and finished a creditable 3rd with a team filled with 50% new players.
We competed well in the Singles Championship with Kim Kelly runner up in the Ladies and Brenton Lloyd runner up in the mens singles.
The last event was the mixed doubles where we scored another runner up with Natalie Carter and Tim Pusey. Tim must have been feeling the pressure of having his surname pronounced wrong almost every time. He went from pussie to pursay but always kept a smile on his face.
Presentation night saw some further awards for W.A. with Brenton Lloyd and Ursula Bennell receiving the player of the future awards, Natalie Carter,Ursula Bennell, Dot McLeod and Lee-Anne Watkins named in the ladies top 8 and Adam Rowe and Dan Kelly in the Mens top 8.
The chairman of selectors named the Australian Team to travel to Japan for the Asia Pacific Cup in October and we were delighted to see Adam Rowe and Natalie Carter selected into the team and Kim Kelly named as a reserve.
Overall a very good result for W.A. The great rapport between the players, the Captains and the Managers and the very good behaviour of all went a long way in guaranteeing success.