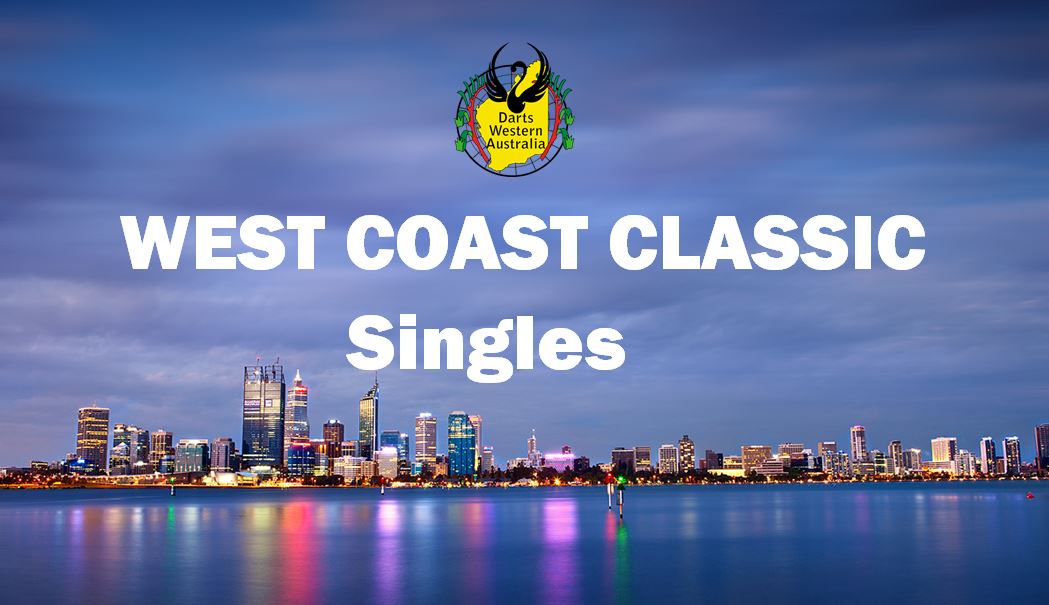 'Darties' were out in full force on Sunday for the first Darts Australia Grand Prix Event of the year, the annual 'West Coast Classic'.
The event that carries valuable Darts Australia and BDO ranking points attracted the cream of dart players from all over Australia.
Overall, 142 men and women competed feverishly all day in the hope of having their name added to the already impressive list of previous winners.
Ladies Open (26 players)
Semi Final 1. – Corrine Hammond (27.87) 5 defeated Natalie Carter (22.84) 0
Semi Final 2. – Tori Kewish (22.02) 5 defeated Michelle Rodney (19.92) 1
Final – Corrine Hammond (22.86) 6 defeated Tori Kewish (23.72) 3
Current Australian Representative Corrine Hammond had 'Come to play' and jumped out the blocks winning the first three legs in 7, 6 and 6 shot games. Tori bounced back with a 40 peg to take the fourth leg in 6 shots before Corrine came back with pegs of 59 and 16 to take the next two legs, making it 5 – 1 her way. Tori wasn't done yet and chimed in with a tidy 4 shotter, pegging 36 to take the 7th leg and also the 8th with a handy 7 shotter. With the score at 5 – 3, 'Rinnie's class and experience kicked in to take the 9th and winning leg out in 5 shots with a nice 106 peg. Great darts ladies.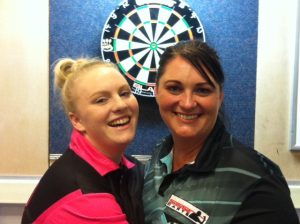 Tori Kewish (Vic) left Corrine Hammond (NSW) right
Ladies B Division
Winner:  Fiona Gottwald (SA)   Finalist:  Sharon Wilkes (WA)
Ladies 'B' Grade (15 x Starters)
Final:   Fiona Gottwald (16.32)   defeated Sharon Wilkes (15.09)
Equal 3rd:   Teresa Schuman & Jenna-Lee Rodney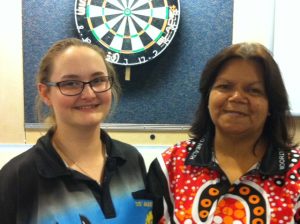 Fiona Gottwald (SA) left Sharon Wilkes (WA) right
Men's Open (74 x players)
Semi Final 1.   Beau Anderson (34.31) 5 defeated Koha Kokiri (33.14) 2
Without a doubt, the match of the weekend and the Belmont Fire Brigade even called to see if everything was OK as they had heard there was a dart board on fire at the Belmont Sports & Recreation Club. Well, there was, it was Beau and Koha doing battle in the first of the Semi's.
Beau's first two legs were 4 and 3 shot games with pegs of 110 and 170. Koha bounced back taking both the next two legs out in 4 shotters, it was 2 all. Beau was having none of it and powered on to take the next three legs out in two 4's and a five shot game. (3 Dart averages = Beau 118.3 & Koha 103.8)
Semi Final 2.       Dan Kelly (27.91) 5 defeated Adam Rowe (27.27) 2
Final       Beau Anderson (29.36) 6 defeated Dan Kelly (26.81) 4
The 'Assassin' hadn't cooled down from his Semi against Koha and continued on his blistering form taking the first five legs on the trot, the worst game being a 6 shotter. Still pumped from St Patricks Day on Friday, 'Dan the Man' bounced back with pegs of 20, 42, 92 & 10 to take the next four legs, 5 – 4.
Beau still had some in the tank and hit the pedal to take the 10th and deciding leg out with a clean 40 peg in 13 darts.Great game fella's.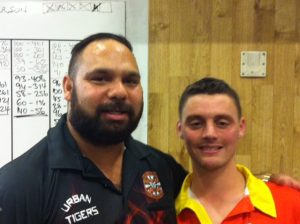 Beau Anderson left and Dan Kelly right (both WA)
Men's B Division (27 x players)
Final:     Alec McAvoy (WA) 22.02 defeated Jeremy Crawley (WA) 17.20
Equal 3rd: Dave Clinch (WA) 16.61 & Hedley McAvoy (WA)  16.45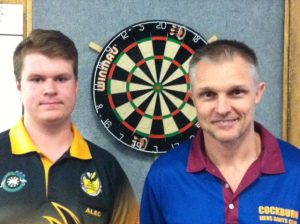 Alec MvAvoy (left) Jeremy Crawley (right)
Overall Highest 'Peg' : Beau Anderson – 170
Total 180's Overall :       158
A huge thanks to everyone that came along to support the weekend and especially to all our interstate visitors.
In no particular order, Fiona Gottwald, Randell & Zaine Skelton, Peter Machin, Mark & Barb Smyth, Margaret Tonkin, Wendy Broadbent, Vanessa Bridge & Kevin Young from S.A.
Tori Kewish, Helen Taylor and Justin Thompson from Victoria and Corrine Hammond from NSW.
Once again, many thanks to the Belmont Sports & Recreation Club for their hospitality and continued support.