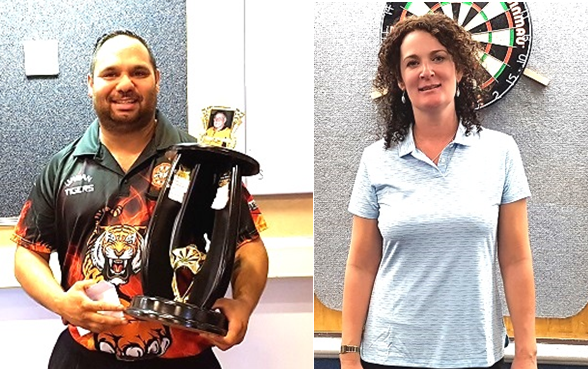 The 2017 darts season got off to a flying start with the first 'Ranked' event of the year attracting a total of 94 competitors across the Men and Women's Open and 'B' Grade events at the home of Darts WA, the Belmont Sports & Recreation Club.
Sons Darren and Mick Grayson were also in attendance to present the coveted trophy, named in honour of their father Bob to the eventual winners on the day.
Ladies Open (19 Starters)
Semi Final 1. – Natalie Carter (73.19) d Jacinta Dann (61.55) 4 – 3
Semi Final 2. – Dot McLeod (62.94) d Jane Gambie (56.28) 4 – 1
Final – Natalie Carter (68.79) d Dot McLeod (50.86) 5 – 3
Natalie jumped out the blocks in the first leg, pegging 97 for a '5 Shotter' with Dot taking the second leg to make it one all. Natalie bounced back with pegs of 106, 100 and 32 to take the third, fourth and fifth legs making it 4 – 1. Dot mounted her charge taking the next 2 legs to make it 4 – 3 but as champions do, Natalie powered on to peg 49 in a 6 shot game to clinch the win.
Ladies 'B' Grade (6 Starters)
Winner – Roberta Harding
R/Up – Roz Watkins
Mens Open (49 Starters)
Semi Final 1. – Beau Anderson (98.92) d Kim Lewis (68.14) 4 – 1
Semi Final 2. – Tim Pusey (87.03) d Denis Parr (83.74) 4 – 2
Final – Beau Anderson (86.04) d Tim Pusey (75.74) 5 – 3
Beau kicked off by taking out the first two legs in 5 and 8 shot games before young Tim bounced back to take the next two legs with pegs of 32 and 40 to make it two all. Beau came back with a win in the 5th leg before Tim evened it up in the 6th with a tidy '5 Shotter'.
It was good old fashioned hard slog with the boys going leg for leg. At this point it was anyone's game but it was to be Beau Anderson's day, taking out the final two legs in five and four shot games.
Mens 'B' Grade (20 Starters)
Final – Kieren Rodwell (62.72) d Alec McAvoy (63.46) 5 – 4
Highest 'Peg' on the day – Tim Pusey 160
Total 180's – 63
Thanks to everyone that came along and supported the event and special thanks to the Belmont Sports & Recreation Club for their continued support and hospitality.
All in all a great day of darts to kick of Season 2017.
Foot Note:
An absolute delight to see former State Representative Jed Woodcock and the 'Legend' himself, Graham Hunt both back on the oche…….welcome back boys and good luck to you both.